NVC Voting Rights Roundtable April 28 via Zoom offered education and a chance for attendees to ask questions from experts and "on the ground" leaders:
• Santa Clara County Supervisor JOE SIMITIAN (moderator)
• Former FEC and Fair Political Practices Commission member ANN RAVEL (keynote)
• Reclaim Our Vote Executive Director ANDREA MILLER
• Mi Familia Vota Executive Director HECTOR SANCHEZ BARBA
• VoteRiders Executive Director DAVE GRIGGS
• Four Directions Founder O.J. SEMANS
• Students Learn, Students Vote Special Projects Director EDDY ZERBE
NVC's March On Rally for Freedom to Vote – August 28 at Palo Alto City Hall caught the attention of local media.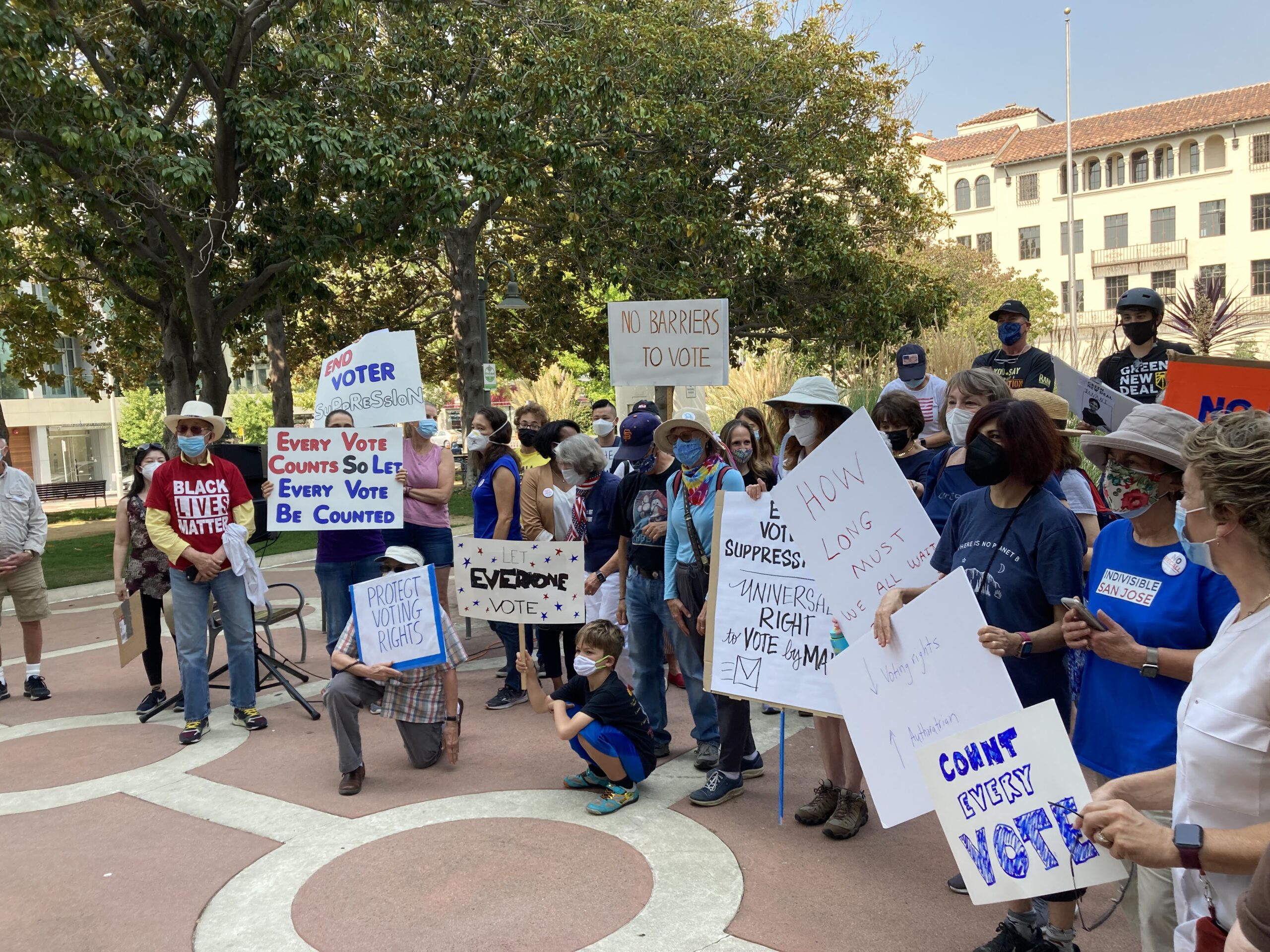 Alice Smith introduced Rep. Anna Eshoo, Ann Ravel (former Federal Elections Commissioner), the Los Altos Mayor, and inspiring speakers from the League of Women Voters, and the ACLU.
Our indefatigable Executive Director, Alice Smith, spoke at numerous events in person and by Zoom, wrote letters to editors, and networked with leaders in the voting rights movement to promote coordinated actions.
VoteRiders writes that "Some may have considered 2021 to be an 'off-year', but for VoteRiders, it was anything but!" Some of their metrics include: Voter ID Info Cards Distributed 120,000+; Digital shares of ID information cards, state-by-state rules, etc. by partner organizations 12,000,000+; Voters Contacted by text 52,000+; Volunteers 5800+, and Partner Organizations now almost 850.
Center for Common Ground continued its expansion into more states, mostly Southern, and all with large populations of community of color voters. Democracy Centers are now in 5 states and growing. The Reclaim Our Vote campaign contacted many thousands of voters by phone, post cards and texts from volunteers all over the U.S. CCG continues to distinguish itself by creativity –from using digital billboards in rural areas and developing new technologies, to driving a big purple bus to motivate often-ignored voters with help, food and humor.