NVC's March On Rally for Freedom to Vote – 8/28/21 Palo Alto CA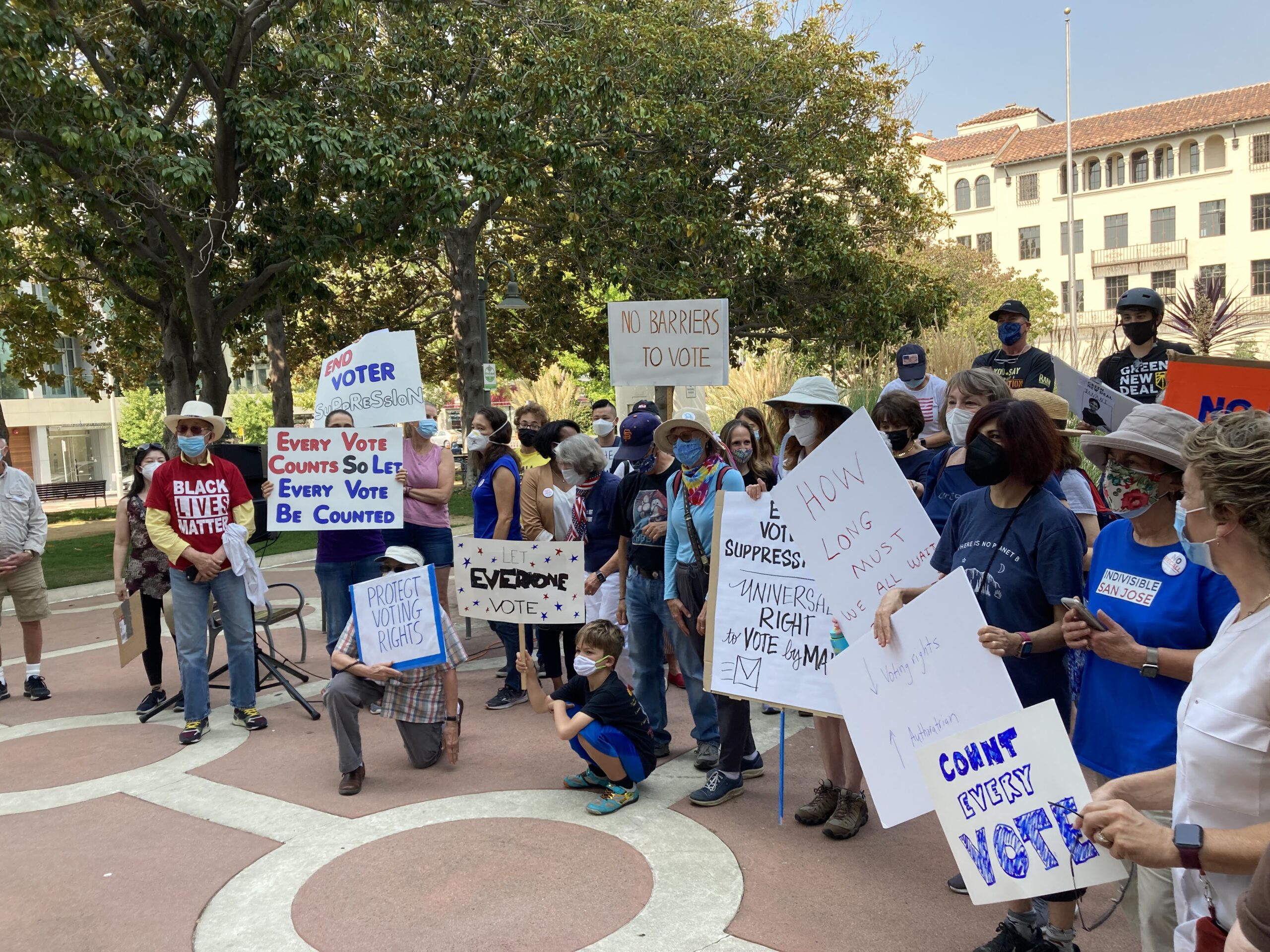 Alice Smith introduced Rep. Anna Eshoo, Ann Ravel (former Federal Elections Commissioner), the Los Altos Mayor, and inspiring speakers from the League of Women Voters, ACLU. Hear them here. (passcode H#zA4c!m)
Verified Voting's mission is to strengthen democracy for all voters by promoting the responsible use of technology in elections. Did you know that 8 different kinds of voting equipment are used in the U.S.? They range from paper ballots to Direct Recording Electronic (DRE) devices, and equipment to assist voters with various disabilities. Some provide paper records for auditing, but not all. See The Verifier for what kinds of equipment and systems are used in your state.
VoteRiders surpassed the goal for their 2020 Million Voter Campaign: guarantee at least one million new voters by Election Day – ensuring they had the ID required to vote or the confidence that they did not need one. They proactively adapted to the COVID-19 pandemic by expanding their digital tools and creating new programs to serve voters and their network of partners.
Campaign metrics included: Voter Id Info Cards Distributed 1,557,001; Voters Contacted 194,280; Helpline & Chatbot Conversations 16,122; Media Impressions 1,011,435,034; Media Impressions 4,000+; New Partner Organizations 250+.
Traffic to their revamped and user-friendly website grew by 400%. By the end of the 2020 cycle, they had surpassed their goal and guaranteed nearly 1.5 million new voters. Plus, they indirectly informed and educated many millions more.
Michigan Election Reform Alliance reported that "the voters who received the NVC postcards from NVC and several other volunteer groups here in Michigan, showed up with an astounding 80% turnout. This is in dramatic contrast with the overall Detroit turnout in 2016 (40%) and 2020 (50%)….Getting voters to apply for an absentee ballot is challenging enough, and getting them to return their ballot is even more so. The general statistic is that 30% get their AV ballot and do not return it. So last November, our postcard campaign helped to beat that by at least 10%. We were also very proud of the success of our program to fund and install absentee ballot drop boxes around the City. Prior to our program, there was not one ballot drop box in a City of 480,000 voters. The postcards helped voters know how to find their nearest drop box, so everything came together well. "
Reclaim Our Vote had a stellar year. ROV is a campaign out of the Center for Common Ground, a 501(c)3 organization. "Since late 2017, its nonpartisan Reclaim Our Vote Campaign has reached millions of voters of color in Alabama, Arizona, Georgia, Mississippi, North Carolina, South Carolina, Texas, and Virginia. For the 2020 election including the primaries, the General Election, and the January 5 runoff, Reclaim Our Vote reached out to 13,740,224 voters. We distributed 9,081,627 postcard addresses , left 2,918,374 text messages, and made 1,740,223 phone calls."