A huge thank you to all the volunteers who made calls to help minority voters in suppression states to vote. You made a huge impact on turnout!  Next step, we need to  help re-register voters who have been purged from the registration lists. Watch this page for  updates.
********
Reclaim Our Vote, a non-partisan phone bank campaign created by the Center For Common Ground, the NAACP and the National Voter Corps is today's version of the 1960's voters' rights movement. Over the past few decades, voter suppression and voter list purging have stealthily disenfranchised millions of citizens.  For the 2018 midterm election, Reclaim Our Vote provided a way to contact voters who had been moved from "registered" to "inactive" and de-registered ("unregistered") status while there was still time to encourage them to re-register. As those deadlines passed, the focus changed to  encouraging still-registered voters to vote.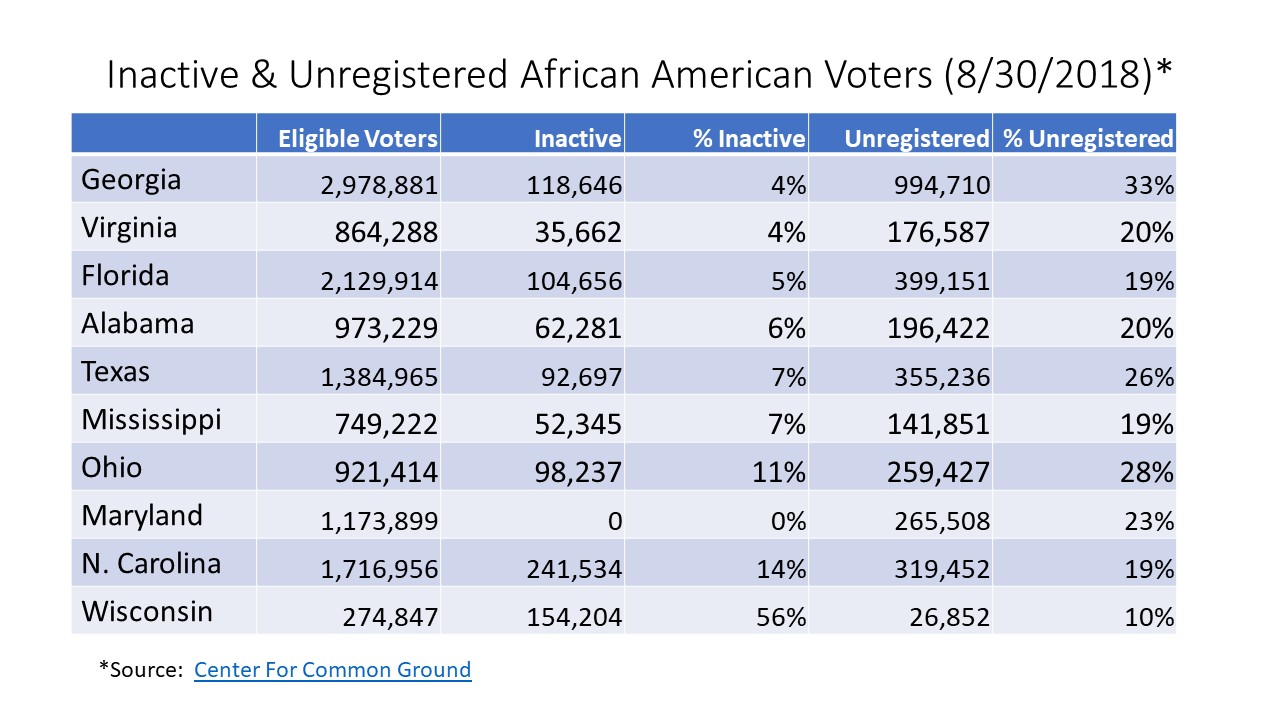 Each state defines "inactive" voters a bit differently, but these are supposed to be people who have skipped one or more previous elections and will be de-registered if they don't vote in the next election or two. (Maryland had already de-registered the "inactive" just before the data above was collected.) But phone bankers have reported talking to "inactive" voters who say they had voted in every election for decades.  Do you really think this is due to human error? Not according to a recent AP article: "An analysis of the records obtained by The Associated Press reveals racial disparity in the process. Georgia's population is approximately 32 percent black, according to the U.S. Census, but the list of voter registrations on hold with Kemp's office is nearly 70 percent black."
"Unregistered" in the chart above is a euphemism for "de-registered" – people who have registered to vote, but no longer "qualify." Changing one's address or name and having served time for a felony are legitimate reasons to have to re-register.   What isn't legitimate?
A postcard designed to look like junk mail with instructions in tiny type instructing the voter to reply if they want to remain registered,
Deleting voters with the same name in different states by comparing voter rolls in predominantly African American areas, and
Rejecting online registrations submitted through Vote.Org for not having manual signatures when faxed registrations are acceptable.
Democracy means all eligible citizens should be able to vote.  You can make a difference. Join NVC to stay up to date on Reclaim Our Vote activities.