"Reclaim Our Vote" is a nonpartisan voter registration and get-out-the-vote campaign, reaching out mainly to voters of color on "Unregistered" and "Inactive" lists in key voter-suppression states. The effort is directed by the Center for Common Ground, with help from the NAACP, Black Voters Matter and other organizations.
Please register as a Reclaim Our Vote volunteer for 2019-2020 to make calls, fundraise, write postcards, or provide rides to the polls, by going to https://actionnetwork.org/forms/support-election-2020/.
Our Virginia phone banks are live! And a North Carolina 3rd Congressional District phone bank is up as well. To access a phone bank, please attend one of our orientation meetings: at https://actionnetwork.org/campaigns/reclaim-our-vote-phonebank-training/  or contact us immediately at  rov@peopledemandingaction.org (please specify that you heard about us at the National Voter Corps web site).
We also need postcard party leaders and fundraisers to help us write postcards to Virginia rural voters, or raise money for our ongoing efforts.  Contact rov@peopledemandingaction.org for details.
Recent Reclaim Our Vote Accomplishments:
Since 2017 we have been registering and turning out under-represented voters in Virginia, Alabama, Georgia, Florida, Mississippi, Texas and Arizona. In 2018 we saw massive voter suppression in Georgia, Texas, and North Carolina, with voter registration forms destroyed, or not accepted. (See Voter Suppression for details.)
For the 2018 midterm election, Reclaim Our Vote provided a way to contact voters who had been moved from "registered" to "inactive" and de-registered ("unregistered") status while there was still time to encourage them to re-register. As those deadlines passed, the focus changed to encouraging still-registered voters to vote.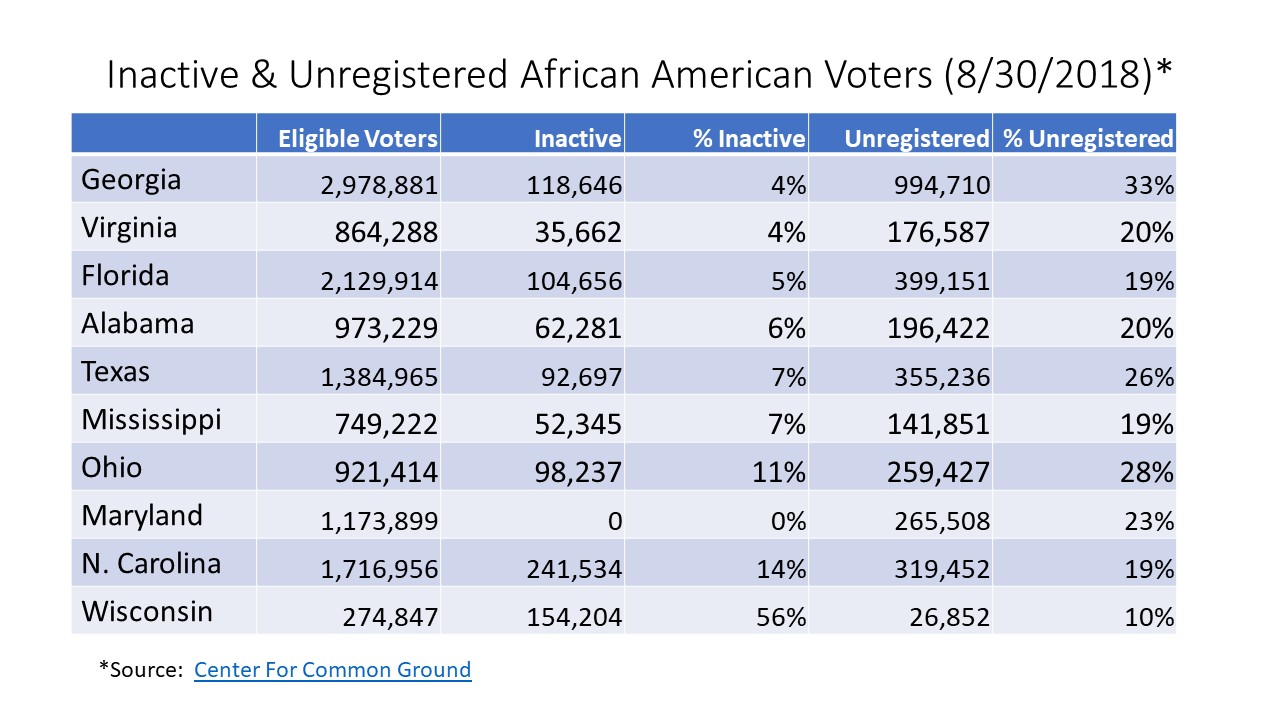 Black Voters Matter and the Reclaim Our Vote project made 253,000 phone calls in the fall of 2018, including 185,000 calls to Georgia (with Black Voters Matter), 29,000 calls to Mississippi, 19,000 calls to Virginia, and 5,000 calls to Texas. Canvassing teams on the ground followed up with those who could not be reached by phone and we provided a number to call to voters who needed transportation to the poll.
Reclaim Our Vote made a big impact – join us and you can, too!